What Food Pantries Really Want You to Donate
November 20, 2023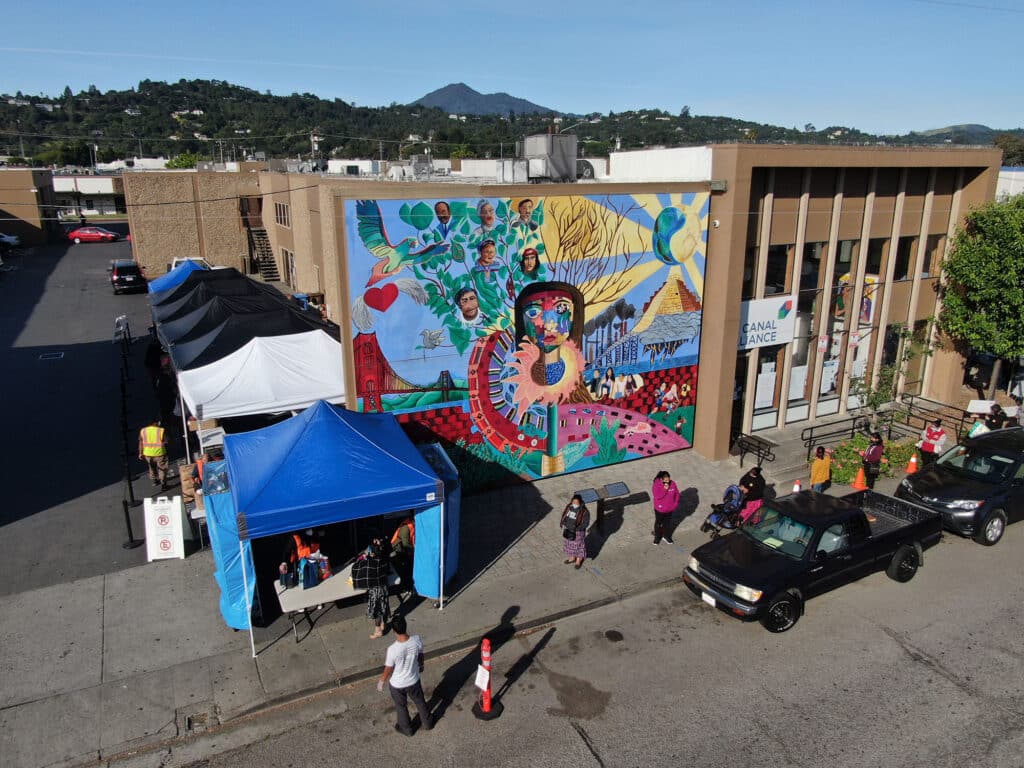 Here's what to donate—edible and nonedible items alike.
BY ALI FRANCIS, BON APETITE
Every holiday season, Alex Nava, a health specialist in San Rafael, California, sees more people at the food pantry she helps coordinate than at other times of year. But what she's been seeing lately is something else entirely. "We have absolutely noticed an uptick in the number of people relying on our food pantry," says Nava, who works at Canal Alliance, a nonprofit mostly serving Latino immigrant families. It's straining the pantry, which serves an estimated 1,200 families each week. Nava says some folks are so desperate for extra food she's seeing families split up in the line hoping to get more provisions.
Across the country, money's tight: US consumer debt is climbing, and 39% of Americans report they've skipped meals to keep up with housing payments. And while a Thanksgiving turkey might cost less this year, food prices in general are expected to continue rising throughout 2024. Plus, some families are struggling with the rollback of temporary pandemic food assistance programs, dwindling Supplemental Nutrition Assistance Program (SNAP) benefits thanks to a political tug-of-war estimated to leave 750,000 people at risk of losing access, and inflationary times driving cost of living to unreachable heights. "Clients are saying they don't receive their food stamp benefits anymore, or that they don't receive as much financial support as they used to from these types of services," says Nava.
It's not just Canal Alliance's food pantry that's experiencing increased demand right now. Louder, more widespread calls for donations can be heard around the country. For those who want to help, though, it's not always clear which items are most helpful at food pantries. Bon Appétit spoke to organizers in California, New York, and Louisiana to learn more about what their communities really need most this year. One underrated item: "Definitely put an emphasis on the diapers," says Nava. Here are all of their edible (and nonedible) donation suggestions.
Holiday staples (and treats)
A holiday meal is "a whole additional cost on top of a family's regular monthly food budget," says Jamie Levato, the executive director of Fareground, a mobile food pantry operating out of Beacon, New York. On top of main meal staples, like turkey and ham, Levato encourages dessert donations. "People do like to have a sweet treat at a special occasion," they say. Specific ideas might include:
Cranberry sauce
Boxes of stuffing
Turkey breasts, small turkeys, and hams
Vegan entrées
Broth
Rolled oats
Dessert ingredients (pie crust, condensed milk, canned pumpkin, apple, cinnamon, flour, sugar, butter, and more)
Seasonal vegetables, such as brussels sprouts and potatoes
Advent calendars
Culturally appropriate and dietarily specific foods
Stocking Latino staples means families in the San Rafael area can "focus on their culture and family time" while continuing their favorite traditions, says Nava. Asking for support is hard enough, adds Levato, and offering options that cover people's diverse dietary requirements helps clients "feel welcomed." Though you'll need to check in with your local pantry to understand which communities it serves, consider purchasing:
Halal meats
Kosher staples
Vegan and vegetarian options (like fake meats and tofu)
Gluten-, soy-, nut-, and dairy-free staples (like pastas and alternative milks)
Fresh food
During the winter season, fruits and vegetables aren't readily available, says Levato. Fareground sources most of its fresh produce from local farms, which are typically between growing seasons during the holidays. "It's a period when we are really seeking vegetables," they say. In California, Nava says her community has made it clear they'd much prefer fresh ingredients to canned foods (though those have a place too). After checking whether your local pantry accepts perishable items, consider donating:
Fruits and vegetables, such as potatoes, poblano peppers, carrots, and avocados
Meats and deli slices, particularly chicken
Fresh herbs (like cilantro, parsley, and basil)
Ready-to-make salads
Lemons and limes
Eggs and cheese
Shelf-stable and microwavable foods
When donating nonperishable items, consider "items that can be used to create meals," says John Sillars, the chief strategy officer at Second Harvest, a nonprofit with a network of mobile food pantries serving roughly 300,000 people in New Orleans and southern Louisiana. For people with mobility issues or those living in motels and shelters, "microwavable food is really advantageous," adds Levato, who encourages people to donate "items that you can prepare with just boiled water or those you can pop in the microwave." Here are some specifics:
Canned beans, chicken, fish, soups, chili, and sauces (with pop tops, when possible)
Dried beans, lentils, and chickpeas
Grains like quinoa, oatmeal, brown and white rice, and pasta
Essentials like olive oil, salt, pepper, and dry herbs and spices
Precooked pasta and rice
Shelf-stable and evaporated milk, tea, and coffee
Nuts, nut butters, cereals, protein bars, and granola
Baking mixes like muffins and pancakes
Instant noodles and soup packets
Baby formula
Loaves of bread
Cooking tools and cleaning products
Cooking tools and cleaning products
Household items like these are always "very well received," says Levato. Most of their clients are housed, "but sometimes tools break or they wear out, and then that's just an added cost in the monthly budget." Specific suggestions for what to donate include:
Aluminum foil, plastic wrap, and parchment paper
Pots and pans
Blenders and food processors
Oven mitts
Can openers
Spatulas, ladles, and wood spoons
Paper towels, napkins, and trash bags
Dishwashing soap and surface cleaners
Dishcloths and sponges
Personal care items
"A person or family experiencing food insecurity is tight on money, so if they do not have the money to meet food needs they also do not have money to meet other household consumable needs," says Sillars. A particular need in her community, Nava says, are diapers. Parents run out "super fast and they're very expensive," she says. Here are some other ideas that organizers say are always helpful:
School supplies
Over the holiday break, families will be stocking up on expensive back-to-school items, says Levato. If your food pantry accepts such donations, consider purchasing:
Backpacks
Notebooks, binders, and lined paper
Pencils, rulers, colored pencils, and crayons
Calculators
Reusable water bottles and lunch boxes
Sporting equipment like soccer balls, basketballs, baseball supplies, tennis rackets and balls, and bikes and helmets
Money
Food pantry needs do change throughout the year, so be sure to call ahead and ask if you're not sure what to donate. Otherwise, many food pantries also accept monetary donations. In Beacon, Levato buys food (at a discounted price) from a centralized food bank (which receives stock from big box stores)—meaning, your dollars help them purchase exactly what their communities are asking for. Levato says, "Even $10 a month is so valuable."
Read the full article on Bon Apetite.
Read more posts in:
Media